Neu laden
herunterladen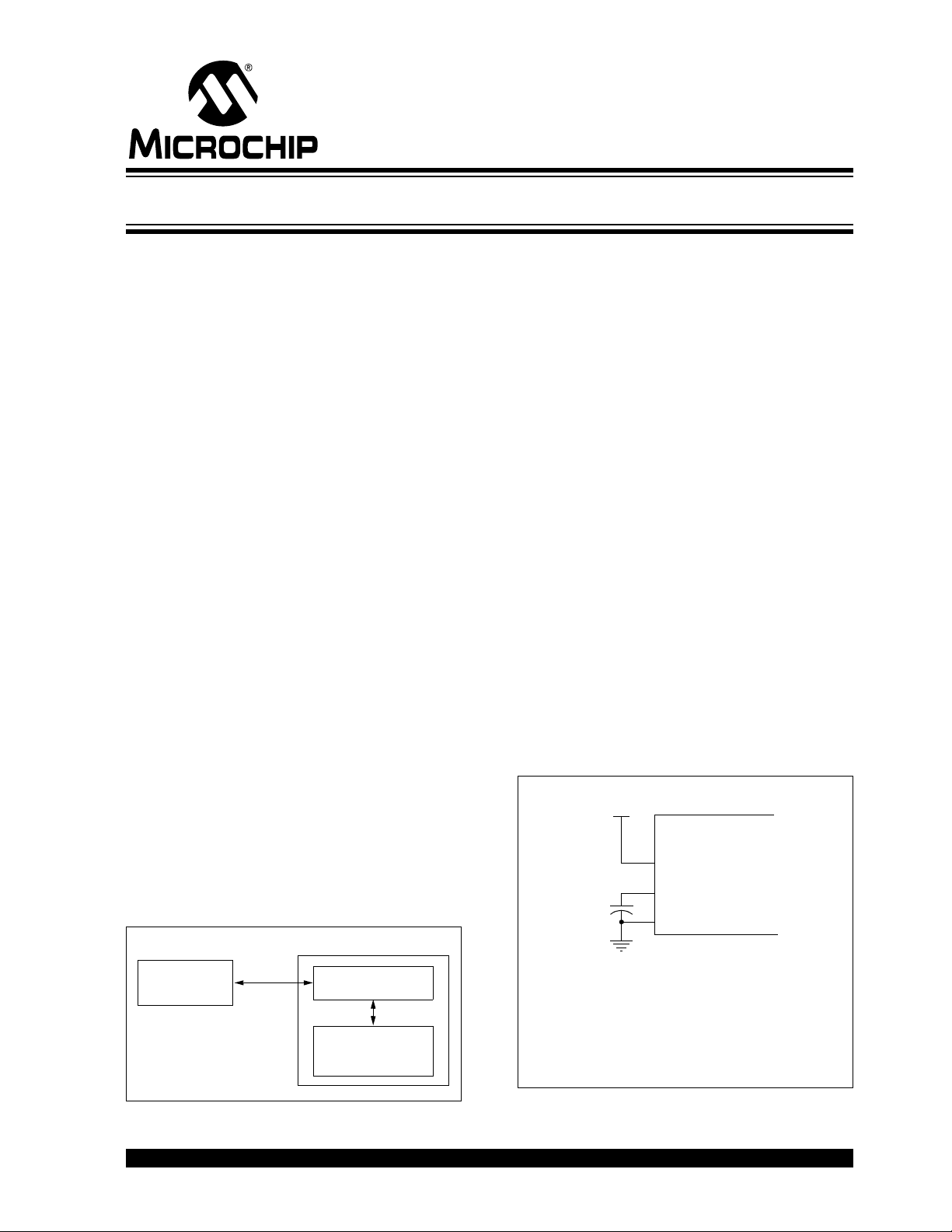 ©
2009 Microchip Technology Inc.

DS70152G-page 1
dsPIC33F/PIC24H
This document defines the programming specification
for the dsPIC33F 16-bit Digital Signal Controller (DSC)
and PIC24H 16-bit Microcontroller (MCU) families. This
programming specification is required only for those
developing programming support for the dsPIC33F/
PIC24H family. Customers using only one of these
devices should use development tools that already
provide support for device programming.
OF THE dsPIC33F/PIC24H
There are two methods of programming the dsPIC33F/
PIC24H family of devices discussed in this
programming specification. They are:
•
In-Circuit Serial Programming™ (ICSP™)
programming capability
•
Enhanced In-Circuit Serial Programming
The ICSP programming method is the most direct
method to program the device; however, it is also the
slower of the two methods. It provides native, low-level
programming capability to erase, program and verify
the chip.
The Enhanced ICSP protocol uses a faster method that
takes advantage of the programming executive, as
illustrated in Figure
2-1. The programming executive
provides all the necessary functionality to erase,
program and verify the chip through a small command
set. The command set allows the programmer to
program the dsPIC33F/PIC24H Programming
Specification devices without having to deal with the
low-level programming protocols of the chip.
FIGURE 2-1:
PROGRAMMING SYSTEM
OVERVIEW FOR
ENHANCED ICSP™
This specification is divided into major sections that
describe the programming methods independently.
Section
3.0 "Device Programming – Enhanced
ICSP"
describes the Enhanced ICSP method.
Section
5.0 "Device Programming – ICSP"
describes
the ICSP method.
All devices in the dsPIC33F/PIC24H family are dual
voltage supply designs: one supply for the core and
another for the peripherals and I/O pins. A regulator is
provided on-chip to alleviate the need for two external
voltage supplies.
All of the dsPIC33F/PIC24H devices power their core
digital logic at a nominal 2.5V. To simplify system
design, all devices in the dsPIC33F/PIC24H
Programming Specification family incorporate an
on-chip regulator that allows the device to run its core
logic from V
The regulator provides power to the core from the other
V
DD
pins. A low-ESR capacitor (such as tantalum) must
be connected to the V
CAP
/V
DDCORE
pin (Figure

2-2).
This helps to maintain the stability of the regulator. The
specifications for core voltage and capacitance are
listed in
Section

8.0 "AC/DC Characteristics and
FIGURE 2-2:
CONNE
CTIONS FOR THE
ON-CHIP REGULATOR
dsPIC33F/PIC24H
Programmer
Programming
Executive
On-Chip Memory
Note
1:
These are typical operating voltages. Refer
to Table
8-1 for the full operating ranges of
V
2:
It is important for the low-ESR capacitor to
be placed as close as possible to the
V
dsPIC33F/PIC24H
3.3V
dsPIC33F/PIC24H Flash Pr
ogramming Specification