Neu laden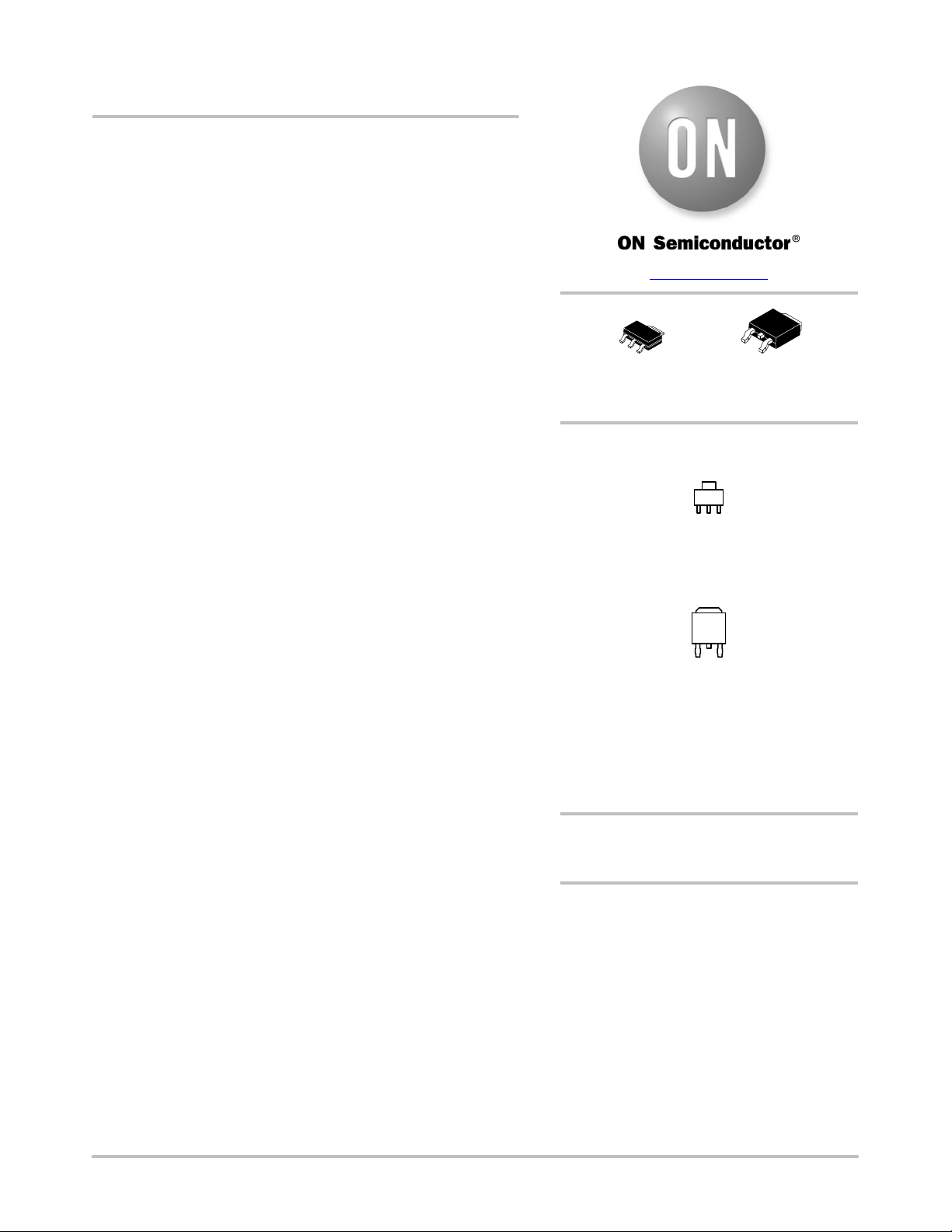 ©
Semiconductor Components Industries, LLC, 2017
January, 2017 − Rev. 28
1
Publication Order Number:
NCP1117/D
NCP1117, NCV1117
1.0 A Low-Dropout Positive
Fixed and Adjustable
Voltage Regulators
The NCP1117 series are low dropout positive voltage regulators that
are capable of providing an output current that is in excess of 1.0 A
with a maximum dropout voltage
of 1.2 V at 800 mA over
temperature. This series contains nine fixed output voltages of 1.5 V,
1.8 V, 1.9 V, 2.0 V, 2.5 V, 2.85 V, 3.3 V, 5.0 V, and 12 V that have no
minimum
load requirement to maintain regulation. Also included is an
adjustable output version that can be programmed from 1.25 V to
18.8 V with two external resistors. On chip trimming adjusts the
reference/output
voltage to within
±
1.0% accuracy. Internal protection
features consist of output current limiting, safe operating area
compensation, and thermal shutdown. The NCP1117 series can
operate with up to 20 V
input. Devices are available in SOT−223 and
DPAK packages.
Features
•
Output Current in Excess of 1.0 A
•
1.2 V Maximum Dropout Voltage at 800 mA Over Temperature
•
Fixed Output Voltages of 1.5 V, 1.8 V, 1.9 V, 2.0 V, 2.5 V, 2.85 V,
3.3 V, 5.0 V, and 12 V
•
Adjustable Output Voltage Option
•
No Minimum Load Requirement for Fixed Voltage Output Devices
•
Reference/Output Voltage Trimmed to ±

1.0%
•
Current Limit, Safe Operating and Thermal Shutdown Protection
•
Operation to 20 V Input
•
NCV Prefix for Automotive and Other Applications Requiring
Unique Site and Control Change Requirements; AEC−Q100
Qualified and PPAP Capable
•
These are Pb-Free Devices
Applications
•
Consumer and Industrial Equipment Point of Regulation
•
Active SCSI Termination for 2.85 V Version
•
Switching Power Supply Post Regulation
SOT−223
ST SUFFIX
CASE 318H
DPAK
DT SUFFIX
CASE 369C
2. Output
3. Input
Heatsink tab is connected to Pin 2.
See detailed ordering and shipping information in the package
dimensions section on
page 12 of this data sheet.
ORDERING INFORMATION
See general marking information in the device marking
section on page 14 of this data sheet.
DEVICE MARKING INFORMATION
1
2
3
Tab
Tab
PIN CONFIGURATION
SOT−223
(Top View)
DPAK
(Top View)
www.onsemi.com