Neu laden
herunterladen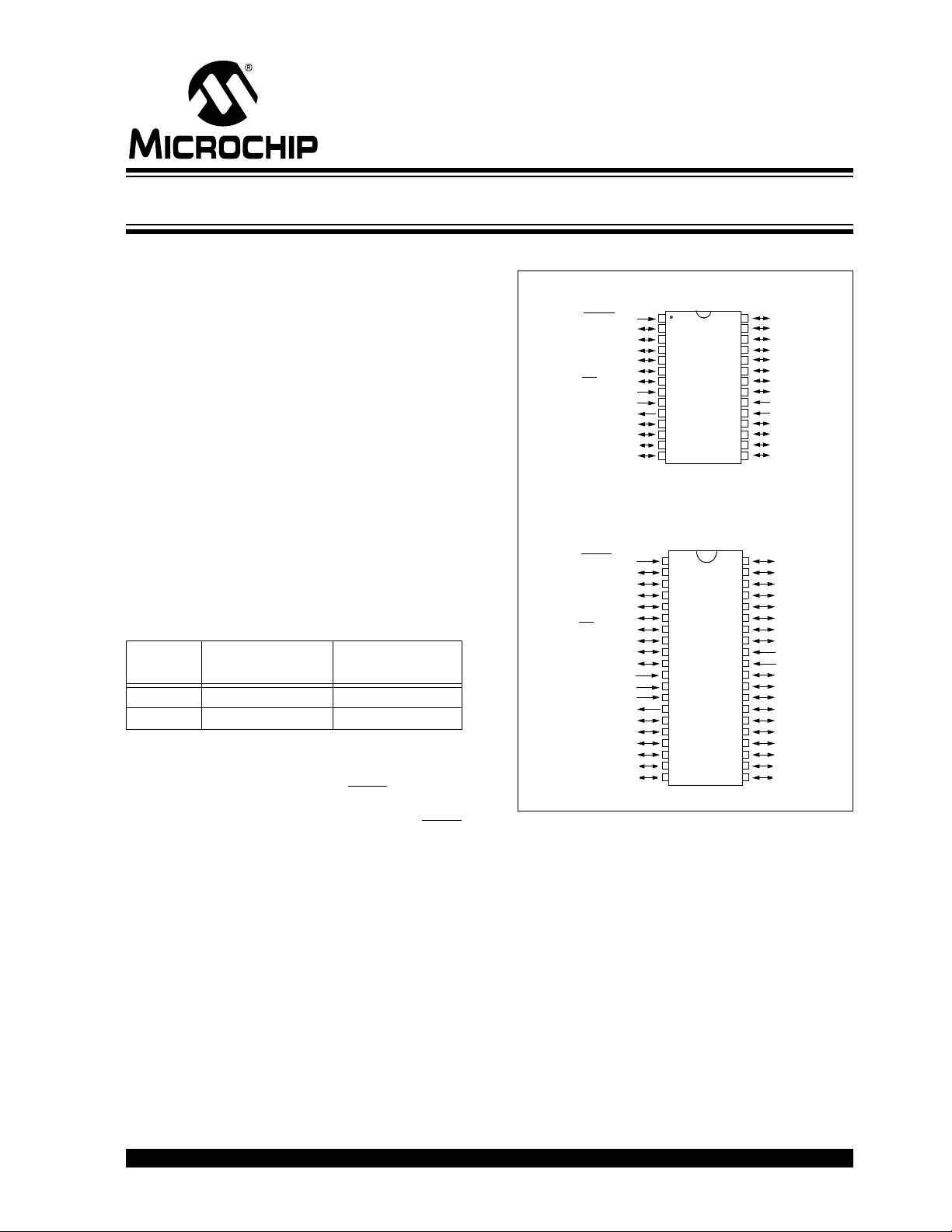 
2010 Microchip Technology Inc.

Advance Information

DS39589C-page 1
PIC16F87XA
This document includes programming
specifications for the following devices:
PIC16F87XA
The PIC16F87XA is programmed using a serial
method. The Serial mode will allow the PIC16F87XA to
be programmed while in the user's system. This allows
for increased design flexibility. This programming spec-
ification applies to PIC16F87XA devices in all
packages.
1.1
Programming Algorithm
Requirements
The programming algorithm used depends on the
operating voltage (V
DD
) of the PIC16F87XA device, or
whether internal or external timing is desired.
Both algorithms can be used with the two available pro-
gramming entry methods. The first method follows the
normal Microchip Programming mode entry of holding
pins RB6 and RB7 low, while raising MCLR
to V
IHH

(13V ± 0.5V). The second method, called Low
Voltage ICSP
TM
or LVP for short, applies V
DD
to MCLR
and uses the I/O pin RB3 to enter Programming mode.
When RB3 is driven to V
PIC16F87XA device enters Programming mode.
The Programming mode for the PIC16F87XA allows
programming of user program memory, data memory,
special locations used for ID, and the configuration
word.
Pin Diagrams
•
PIC16F873A
•
PIC16F876A
•
PIC16F874A
•
PIC16F877A
Algorithm
#
V
DD
<

5.5V

Internal; 4 ms/op
24.5V


VDD



5.5V

External; 1 ms/op
PDIP, SOIC
PIC16F876A/873A
10
11
2
3
4
5
6
1
8
7
9
12
13
14
15
16
17
18
19
20
23
24
25
26
27
28
22
21
RA0/AN0
RA1/AN1
RA2/AN2/V
RA4/T0CKI/C1OUT
RA5/AN4/SS
/C2OUT
Vss
OSC1/CLKI
OSC2/CLKO
RC0/T1OSO/T1CKI
RC1/T1OSI/CCP2
RC2/CCP1
RC3/SCK/SCL
RB7/PGD
RB6/PGC
RB5
RB4
RB3/PGM
RB2
RB1
RB0/INT
V
DD
RC7/RX/DT
RC6/TX/CK
RC5/SDO
RC4/SDI/SDA
RB7/PGD
RB6/PGC
RB5
RB4
RB3/PGM
RB2
RB1
RB0/INT
V
DD
RD7/PSP7
RD6/PSP6
RD5/PSP5
RD4/PSP4
RC7/RX/DT
RC6/TX/CK
RC5/SDO
RC4/SDI/SDA
RD3/PSP3
RD2/PSP2
RA0/AN0
RA1/AN1
RA2/AN2/V
RA4/T0CKI/C1OUT
RA5/AN4/SS
/C2OUT
RE0/RD/AN5
RE1/WR/AN6
RE2/CS/AN7
V
DD
OSC1/CLKI
OSC2/CLKO
RC0/T1OSO/T1CKI
RC1/T1OSI/CCP2
RC2/CCP1
RC3/SCK/SCL
RD0/PSP0
RD1/PSP1
1
2
3
4
5
6
7
8
9
10
11
12
13
14
15
16
17
18
19
20
40
39
38
37
36
35
34
33
32
31
30
29
28
27
26
25
24
23
22
21
PIC16F877A/874A
Flash Memory Program
ming Specification